Cedar Venetians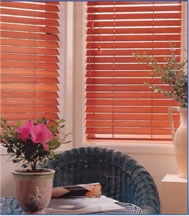 The warmth and luxury of cedar timber is beautifully expressed in these quality built venetians. The elegance of these plantation grown timber blinds is created in a wide range of shades in both the easily cleaned UV resistant lacquered finishes and the traditional oiled finishes. Cedar is well known for its inherent stability, as well as its great insulating properties. You will have many years of enjoyment from these beautiful and practical window treatments.

Whether lacquered or oiled our blinds are all UV treated. Variations in colour and grain will always occur with cedar, however we do try to keep this to a minimum. The minimum width of our cedar blinds is 220mm and the maximum width on small drops is 3000mm. There is no warranty on Cedar venetians over 4 square metres.

Cedar venetians offer:
a low cost alternative to plantation shutters
a warm and natural look
good ability to filter light
* When raised, the stack height of cedar venetian blinds can slightly obstruct the view on larger windows.
Operating your cedar venetians
Adjust the angle of the blades to achieve the desired light control or privacy by simply pulling the cord operated tilting mechanism. Alternatively lift the blind by pulling the lifting cords and locking the blind into the required position.
Shades
Click here to see the range of shades cedar venetians come in.
Click here to see more photos of our cedar venetians.
Safety
Breakaway tassels ensure these blinds conform to Australian Safety Standards.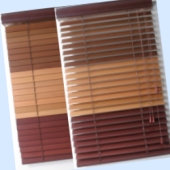 Caring for your Oiled Cedar Venetian Blinds
Do not wet oiled Venetian blinds. If Venetians are watermarked, sand lightly and re-oil with Cabots oil. Blinds can be dusted with a soft cloth or the brush attachment of the vacuum cleaner in the same manner as for the 25mm aluminium Venetian blinds.
Caring for your Lacquered Cedar Venetian Blinds
Like oiled cedar, venetians washing is not recommended. Although the timber is sealed, water or excessive dampness may cause warpage or discolouration of the slats. As the surface of the blades is smooth, dust may be easily brushed off at regular intervals using a soft dusting cloth or the vacuum cleaner brush attachment.