Holland Roller Blinds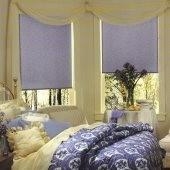 The Holland Roller blind combines all the functions you could ask for in a window treatment. Practical and functional, the Roller blind will fit into and enhance any decor.
You can select from a wide range of traditional fabrics that offer an almost endless selection of colour and texture, or you can consider our broad range of Sunscreen fabrics. Sunscreen fabrics suit most modern decor and have excellent UV ratings which enable you to protect your furnishings while still being able to retain your view through the blind. Our roller fabrics are available in both light filtering as well as total blockout fabrics. In addition to the wide range of fabrics available, you can also select from a large range of base trims to suit your individual style.

If extra blockout and insulation is required, ask about our fully enclosed cassette and side channel options. If you require very large blinds a spring assist (helper spring) is an option and will make it much easier to pull up large blinds. All blinds over 2100 are supplied with heavy duty rollers and this is already included in the price. Should you require multilinked blinds please call or email us and we will price these out for you. We are able to manufacture blinds up to 3900 wide dependant on fabric widths and drops. Please contact the office if you require blinds outside the default settings.
Our Holland Roller Blinds:
Are available in Blockout fabric to block out light completely
Are also available in Sunscreen fabrics to eliminate glare (see our page on Sunscreen Roller Blinds)
Are lightweight, strong and inexpensive
Are simple and understated - ideal for contemporary homes
Provide insulation against heat in summer and cold in winter
Have a modern, minimalist appearance
Our fabrics are all sanitised, mould resistant and most are fire retardant and conform to the Australian Standard Building code. Most of our fabrics are Australian made. Scallop and Georgian edge finishes are available on request rather than base rails.

Operating your Holland Roller Blinds
Traditionally, roller blinds are operated by a spring roller and are controlled by a tassel or ring pull on the base of the blind. We have modernised our rollers and they are operated by a colour co-ordinated chain mechanism and trimmed with a co-ordinating or contrasting flat or rounded bottom rail.
Colours, Textures and Shades
Click here to see the range of colours, textures and shades our Holland Roller Blinds come in.
Click here to see more photos of our Holland Roller Blinds.
Safety
The chain driven blind has a chain tensioner provided to conform to Australian Safety Standards.
Caring for your Holland Roller Blinds
Vacuum gently with the brush attachment or wash with a damp cloth and mild detergent. These fabrics are all sanitized mould resistant and most are fire retardant. Small marks can be spot cleaned with a damp cloth.