Roman Blinds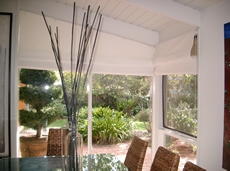 The simple lines of our Roman Blinds will give any room that decorator finish. Our Romans are available in a wide range of stylish fabrics that offer a broad selection of colour and texture. Among these options you are also able to select from fabrics offering total privacy and full blockout, through to light filtering translucents that protect your furnishings from damaging UV, while making an up to the minute fashion statement.
Roman Blinds provide day and night time privacy
Roman Blinds are extremely economical
Our blockout fabric offers 100% light blockout and complete privacy
Our light filtering fabric offers partial light blockout and is available in natural canvas
Our sunscreen fabric blocks out approximately 90% of UV rays and reduces heat by up to 30%
Roman Blinds are good insulators
Roman Blinds are easy to wipe clean
Bali Roman Blinds

Bali Roman Blinds have stained/coloured
battens on the front.

Standard Back Batten Roman Blinds

Standard Back Batten Roman Blinds have the
batten concealed in a pocket on the back of the blind.
Operating your Roman Blinds
Designed with a number of options for operation, these blinds are suitable for most window situations. The options include either a cord operation that is tied off onto a cleat, or a cord lock system. As a further option you may also consider a continuous chain drive system.
Colours, Textures and Shades
Click here to see the range of colours, textures and shades our Roman Blinds come in.
Safety

To adhere with Australian Safety Standards breakaway tassels are used where applicable. With the continuous chain operation, a chain tensioner is provided.
Chain Control

Chain drive Roman Blinds come with the chain drive attached to the normal 40mm headboard. There is a small additional charge for the chain drive, dependent on the width of the blind.
Cord Locks
Our Roman blinds can be manufactured with an optional cord lock.
Accessories
A 40mm headrail is a standard accessory. The Chelsea Roman Blinds come with Bias Binding that is available in Brown, Beige, Fawn or Stone. For bias binding on edges, a $15 charge is added. The bias binding is colour matched to the main fabric colour. Cord colours are available in Cream, Brown or White. An optional brass/crome cleat and acorn is available.
Caring for your Roman Blinds
Gently dust with a soft cloth or vacuum brush attachment. Roman Blinds may also be spot cleaned with a damp cloth and mild detergent. However, all roman blinds are supplied with specific cleaning instructions that pertain to each fabric. Care instructions are located on the underside of the headrail.